The Best Places to See Fireworks in Snohomish County. 🎆
Did you know that we have a Spanish-speaking real estate broker on duty at all times? Call 425-308-6641 today!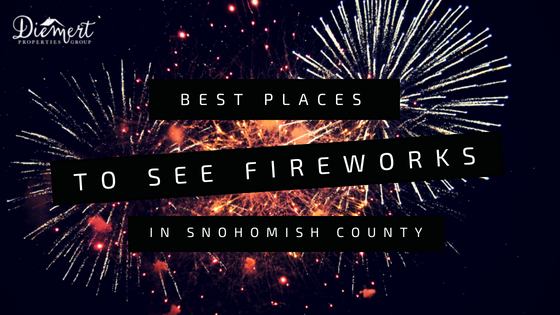 At the Diemert Properties Group, we have a special love for the Fourth of July and the tradition of celebrating with family and friends. We have fond memories of past years, gathering together for barbecues and fireworks displays purchased from Boom City in Tulalip, Wa. However, we understand that as more cities in Snohomish County are banning fireworks, it can be challenging to find new ways to enjoy the holiday.
That's why we've compiled a list of fun alternative plans to keep the celebrations going strong! In this blog post, we'll be highlighting some of the best places around Snohomish County where you can watch fireworks displays and enjoy all the fun of the holiday.
While many cities in Snohomish County have banned fireworks, there are still some areas where you can legally light them up. According to SnohomishCountyWa.Gov, the following cities allow fireworks: Arlington, Darrington, Granite Falls, Monroe, Snohomish, Stanwood, and Sultan. Bothell and Lake Stevens also permit fireworks but only on the Fourth of July.
So, whether you're looking for a new spot to watch the fireworks or simply trying to navigate the changing regulations, we're here to help you make the most of this festive holiday. Read on to discover some of the best fireworks displays around Snohomish County and start planning your Fourth of July celebration today!
**Please double-check these events as they change every year and they are subject to change at any time. We try our best to keep the list up to date.**
Find a Firework Display in Snohomish County
🎇 Arlington, WA
In Arlington, WA there will be a firework display and festival at Quake Park. Located at 18501 59th Ave, Arlington 98223.
🎇 Darrington, WA
Darrington will be having a parade and fireworks show at the High School. The fireworks will start at dusk. Located at 1085 Fir Street, Darrington WA 98241. Learn more on their website!
🎇Edmonds, WA
Watch Fireworks at the Edmonds Annual 4th of July Parade. Located at 6th and Bell.
🎇Everett, WA
Everett has TWO places to catch the "Thunder on the Bay" firework show! Tune to Classic Country 1520 AM KXA for a simulcast of music to the fireworks.
Legion Memorial Park ~ 145 Alverson Blvd, Everett 98201 (No parking available)
Gran Avenue Park ~ 1800 Grand Ave, Everett 98201
🎇 Lake Stevens, WA
Lake Stevens is a wonderful place to watch fireworks on the lake! There isn't an official show however if you go to a local park on the lake, you are sure to see TONS of fireworks! Bring lawn chairs or blankets to sit on and some snacks!
🎇 Marysville/Tulalip, WA
Live in the Marysville area? There isn't an "official" show, however, Boom City in Tulalip always puts on a great show! They sell fireworks and light off a TON of fireworks all night! There are lots of parking spots to watch right from the comfort of your car. Located at 10274 27th Ave NE, Tulalip 98271.
🎇 Monroe, WA
The Evergreen Speedway is hosting the USA Birthday Bash on July 4th. There will be all kinds of racing to watch from demo derby, to figure 8's, buses, boats, and more! Fireworks will be at the very end of the event. Check out all the event details here!
All of us at the Diemert Properties Group wish you a fun and safe 4th of July! ❤️  We hope you think of us the next time you need to buy, sell or invest in real estate. 425-308-6641
JUST LISTED IN SNOHOMISH COUNTY: