Home Partners of America – Lease To Own Home Buyer Program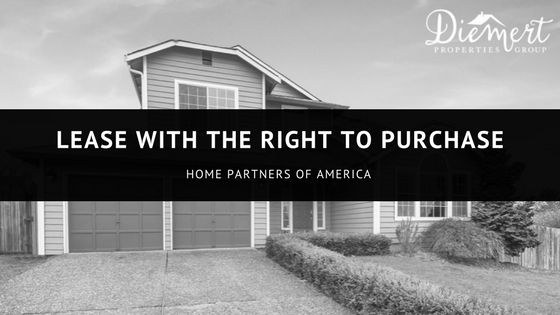 The Diemert Properties Group is working with an amazing Lease with a Right to Purchase program. If you qualify for the program you get to pick a house that is for sale based on your approved rent in a qualified community. The investment firm purchases the home and you are only obligated to a 1-year lease term at a time with a right to renew your lease for up to 5 years*. You can purchase the home at any time for a pre-agreed upon price.
How Does Home Partners of America Work?
The process is super easy and transparent. You would first apply for approval of the program. Once you get fully approved you get to find a "Home Partners" qualified home with your real estate broker. Then, Home Partners buys the home and you lease it from them. At the time of the home purchase, you sign a lease agreement and a right-to-purchase agreement.  You then have the option to purchase your home from Home Partners or choose not to.
When attempting to purchase a home it is depending on if the seller and Home Partners come to an agreed price. They also want to make sure that the inspection is approved before moving forward. They want to set you up for success when buying a house. To see a list of the property criteria click here!
It's a great option if you:
• Want to live in a single-family home, in a great community with quality schools
• Are a first-time homebuyer who's cautious about buying a home now, but may want to buy in the future
• Are in the process of relocating but aren't sure where you want to settle down
• Can't obtain a mortgage right now
Basic Requirements to Qualify for the lease to own program:
• Annual household income of $50,000+
• Stable employment
• No history of eviction or other landlord issues
• No pending bankruptcy
• No disqualifying criminal history
There is full transparency with Home Partners, upon joining the program you are given the monthly lease and purchase price information each year for up to five years*, so you can plan for your future. This makes it so that there are no surprises along the way. You have the right to purchase the home at any time during your residency, at the pre-set price. If the home value appreciates this price each year and you choose to purchase it, you realize a financial benefit. If the value of the home declines, you can choose not to renew your lease and walk away without any penalties. If you have a few minutes to reach out today, I can give you more info. I hope we can connect, and that your housing search goes smoothly. I look forward to hearing from you!
Property listing information on Home Partners' website is not guaranteed, is provided exclusively for user's personal, non-commercial use and may not be used for any purpose other than to identify prospective properties in which users may be interested. The Lease with Right to Purchase Program ("Program") is offered and administered by Home Partners. Resident and property must meet eligibility requirements, which are subject to change. 
The resident must qualify for a mortgage from a third-party lender to exercise the right to purchase a home. Home Partners does not provide financing for a resident to purchase a home. Home Partner's approval for the resident to lease the home does not mean that the resident will later qualify for a mortgage. ©2014 Home Partners of America, Inc. All rights reserved. Home Partners, the Home Partners of America, Inc. logo and "A New Path to Homeownership" are pending or registered trademarks and service marks of Home Partners of America, Inc. or its affiliates.