Are you or someone you know thinking of purchasing a home for the first time, moving into a new home or possibly wanting to sell a home?  You can call us anytime at 425-308-6641. We are here to help you!
How Much Does Buying a House Cost?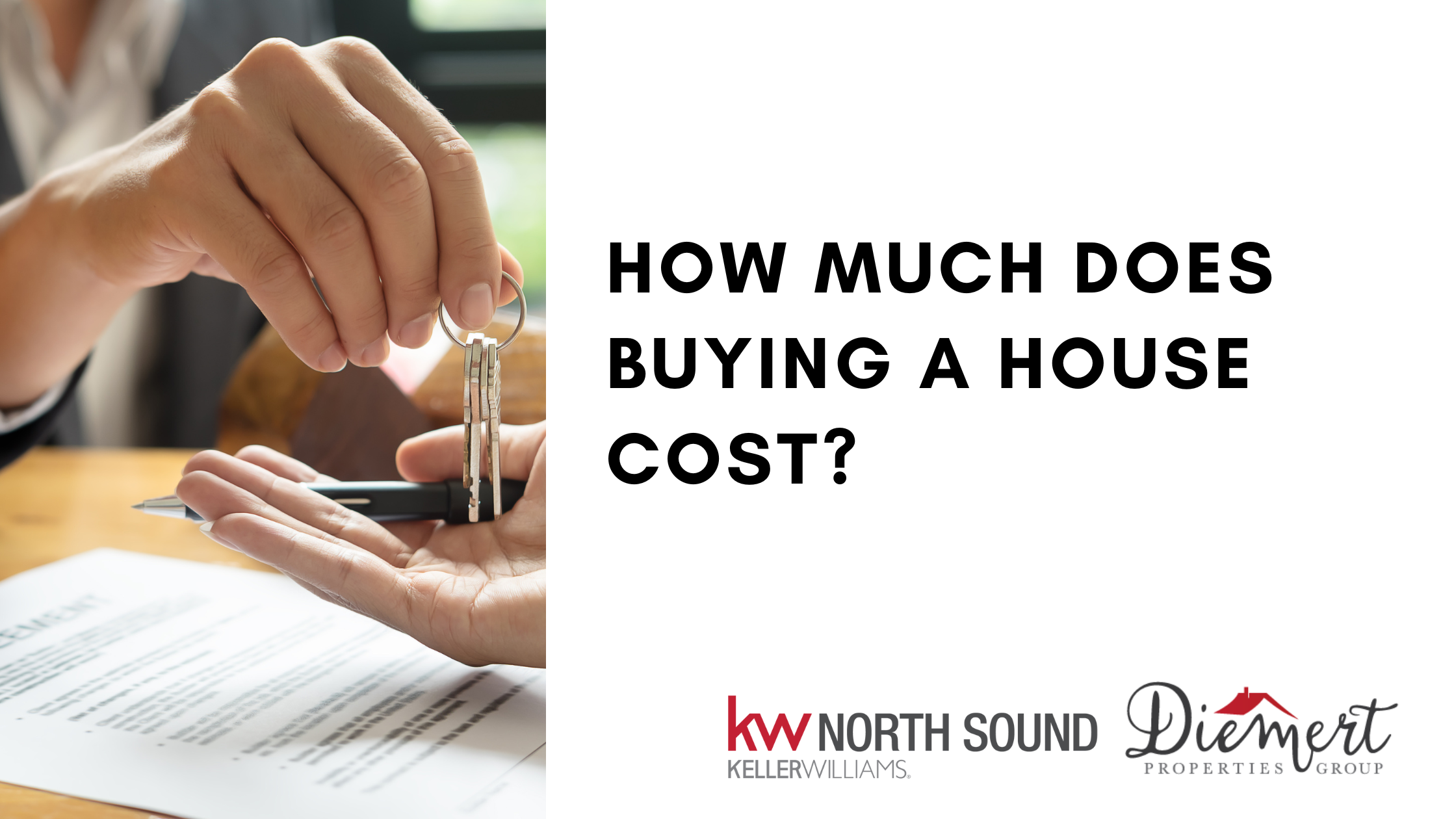 Whether you are buying your first house or your 5th house it is always a big investment and it is important to know the cost of buying a house. Many people ask us the same question how much does a house cost? So we thought we will answer it for everyone!
You want to make sure you plan ahead and save up enough money to feel comfortable when buying a home. The best way to plan ahead is to research and learn what the steps to buying a house are. Find out how much of a  down payment you will need, how much your monthly payments would be, and also find out all of the extra costs that go into buying a home. The Diemert Properties Group listed out the main costs that go into buying a home, every situation is different so there might be some other costs that we don't cover.
You can use a Mortgage Affordability Calculator for a quick estimate.
Down Payment
The First cost to consider when buying a house is the down payment. The way to figure out how much, if any, money you will need to put down on a house is to consult with your lender. Some costs of buying a home can be covered by the seller, however, the down payment is always paid by the buyer. Don't be scared by this though because there are many programs out there that offer zero down payment options. A 0% down loan option is a USDA loan(United States Department of Agriculture) which is 100% loan guaranteed by the United States Department of Agriculture. With USDA, you typically get lower interest rates. USDA focuses on rural home buyers and suburban home buyers. Other zero down payment options would be using a down payment assistance program, 0 Down Conventional loan, 0 Down FHA loan or a VA loan which is available to members of the U.S. military and their surviving spouses.
For recommendations on a good lender call us at 425-308-6641 to talk about which lenders are best for you!
Closing Costs
These are the costs that you can negotiate for the seller to pay when you write an offer on a house. Sometimes the sellers will pay all of the closing costs, some will just pay a portion and some will not pay any of them. It really depends on the seller, some sellers don't have enough money after their sale to pay any extra costs. Your lender will be the one to go over how many closing costs will be and if you need some paid by the seller and how much. In a seller's market, it is a little more difficult to get all of your closing costs paid than in a buyer's market.
Earnest Money Deposit
After you get an offer accepted on a house you will need to give a check written out to the closing agent (usually an escrow company or the real estate firm). The amount of money you will need depends on the price of the home you are buying. The choice is always up to the buyer to decide on how much earnest money they would like to offer, there is no set price. However, usually, buyers will offer around 1% to 2% of the home cost in earnest money. Sellers can also negotiate on the offer if they want more earnest money to see that you are a serious and motivated buyer. Earnest money is not additional funds it counts towards your down payment at closing. If you are in a multiple-offer situation raising your earnest money up can help show the seller you are a serious buyer.
Home Inspection
During a home inspection, a qualified inspector takes an in-depth and impartial look at the property you plan to buy. The inspector will review the readily accessible exposed portions of the structure of the home, including the roof, attic, walls, ceilings, floors, windows, doors, basement, and foundation, as well as the heating/air conditioning systems, interior plumbing, and electrical systems for potential problems.
Home inspections are not required however we always highly suggest you get one, even if it is a fixer-upper. A home inspection is usually between $400 to $600 depending on how big the home is. Paying that money can save you tons in the long run if you find out there are major problems with a house. That way you can negotiate prices, ask for certain items to be fixed, or back out of the deal completely. With that being said, every house is going to have a couple of things here and there, that is normal. You can also choose to have other inspections like a termite inspection, mold inspection, or radon testing. Each additional inspection will cost more money.
Home Appraisal
A home appraisal is something you will have to get if you are getting a loan through a bank or lender. They will be the ones to discuss this cost and how they would like it to be paid.  Home appraisals show the bank that the amount they are lending you is the fair market value. The appraisal can come back at value, undervalue, or overvalue. If the appraisal does not come back at the value you are buying the house at you might need to adjust the purchase price up or down in order to get the loan. The bank is the one who chooses the appraisal company.
Home Owners Insurance
Lenders require homeowners insurance to cover the collateral for the home loan. Shop around as you would for any other insurance. Consult with your real estate agent if you need some referrals or if you have any questions.
Costs When Buying a Bank-Owned House
If you are thinking about purchasing a house that is owned by a bank keep in mind there could be extra costs involved. Each bank is different so it is important to have your real estate agent advise you before you place any bids or write any offers. Some banks require an extension fee if you need more time for closing, others might have a fee you have to pay in cash at closing. This is just something to keep in mind when looking at houses. Short Sales could also have some different fee's that need to be paid in cash at closing.
Moving Help
Another cost to consider is a moving company. How are you going to get your things moved from your old place to your new home? Are you going to need a moving company or a rental truck? It is good to plan this expense in advance as well!
Compliments of the Diemert Properties Group. If you or someone you know is thinking about selling call us today at 425-308-6641 or Click Here to get a FAST online valuation of your home.
Contact us today to get started on the journey of buying a house!