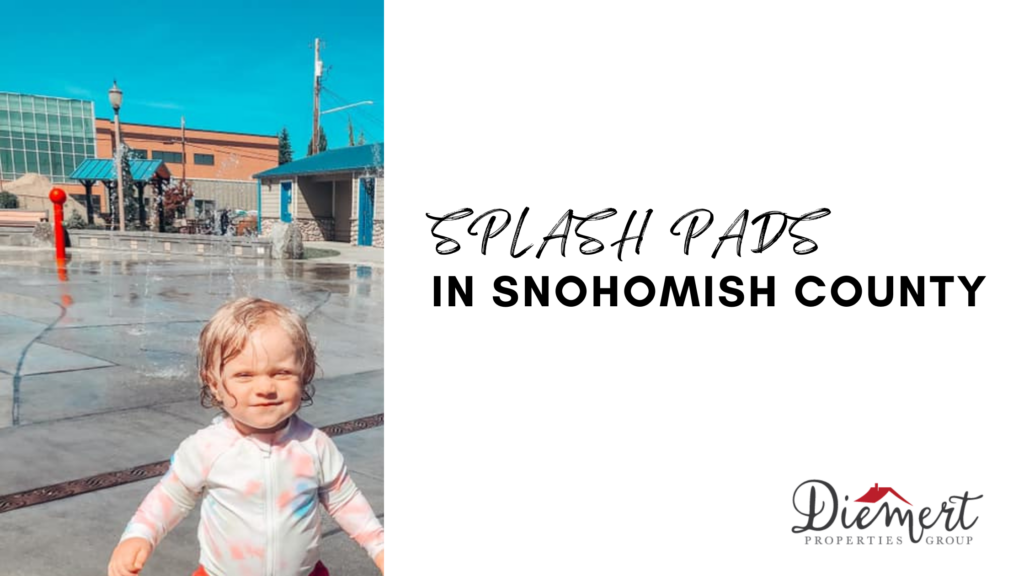 Summer is right around the corner, and what better way to cool off than to visit a splash pad? If you're in Snohomish County, WA, there are several options available to you. Here are some of the best places to find splash pads in the area.
Snohomish County Parks with Splash Pads
Many cities in Snohomish County have their own public parks that include splash pads. Some popular options include:
Willis Tucker Community Park in Snohomish
Located in Snohomish, Willis Tucker Community Park offers a variety of activities for all ages, including a splash pad. The splash pad features several water features and is a great place to cool off on a hot day. The splash pad opens at the end of May (the Saturday of Memorial Day Weekend) and stays open daily through Labor Day. Then it is open on weekends until the warm weather ends in September.
Located at 6705 Puget Park Drive, Snohomish, WA 98296
Learn more about Willis Tucker Park here!
Forest Park in Everett
Forest Park Splash Pad is a fun-filled outdoor water park located in Everett, Washington. This splash pad is a popular attraction for kids who want to cool off during the hot summer days. The park features a variety of interactive water features, such as water cannons, spray nozzles, and fountains. There are also several shaded areas, picnic tables, and benches where visitors can relax and enjoy the beautiful surroundings. The splash pad is open daily during the summer months and is free to the public, making it a great place to spend a fun day out with the family.
Located at 205 Park Rd, Everett, WA 98203
See more info on the Forest Park water playground here!
Comeford Park in Marysville
Comeford Park Splash Pad, located in Marysville, WA, is a fantastic park for anyone looking to cool off during hot summer days. This vibrant splash pad features an array of water play equipment, including sprinklers, jets, and fountains, providing endless hours of fun for kids of all ages. The park also has a spacious playground, picnic areas, and lots of grassy areas to run around, making it a perfect spot for families to spend the day. Additionally, the park has plenty of shade structures and benches, allowing visitors to take a break from the sun and relax while enjoying the beautiful surroundings. Whether you're looking for a fun outing or a place to beat the heat, Comeford Park Splash Pad is a must-visit destination in Marysville.
Located at 514 Delta Ave, Marysville, WA 98270
Get more information on Comeford Park here!
Haller Park in Arlington
This is one of our favorites! Haller Park Splash Pad in Arlington, WA is an exciting and refreshing destination for kids of all ages looking for a fun outdoor experience. The splash pad features a variety of water activities and play areas designed to keep children entertained for hours. From water sprays and fountains to interactive water features, there is something for everyone at this family-friendly attraction. The park is well-maintained and offers plenty of shaded areas for parents to relax and watch their children play. With ample parking and convenient restroom facilities, Haller Park Splash Pad is a great place to spend a summer day with your loved ones. Bonus – There is access to the Stillaguamish River and the Centennial trail!
Located at 1100 West Ave, Arlington, WA 98223
See more info on Haller Park Here!
North Cove Park in Lake Stevens
This spray park is smaller than the others listed and it's still a great place to cool off if you are near Lake Stevens. There is also a beach and dock to play in the lake for another option to play in the water. The splash pad is surrounded by green grass and sidewalks. There are plenty of picnic tables and benches for visitors to relax and enjoy the scenic views of the lake. It is also conveniently located near restrooms and a playground, making it an ideal destination for families looking to spend a day outdoors.
Located at 1806 Main St, Lake Stevens, WA 98258
Learn more about North Cove Park here!