7 Basic Steps to Buying a House
Congratulations! You are thinking of buying a house! Here you will find the seven basic steps to buying a home. The Diemert Properties Group knows that buying a house is a huge decision for anyone with lots of unknowns. Many buyers contemplate buying a house for years before actually acting on it. This blog is here to help you take the steps to buy a house!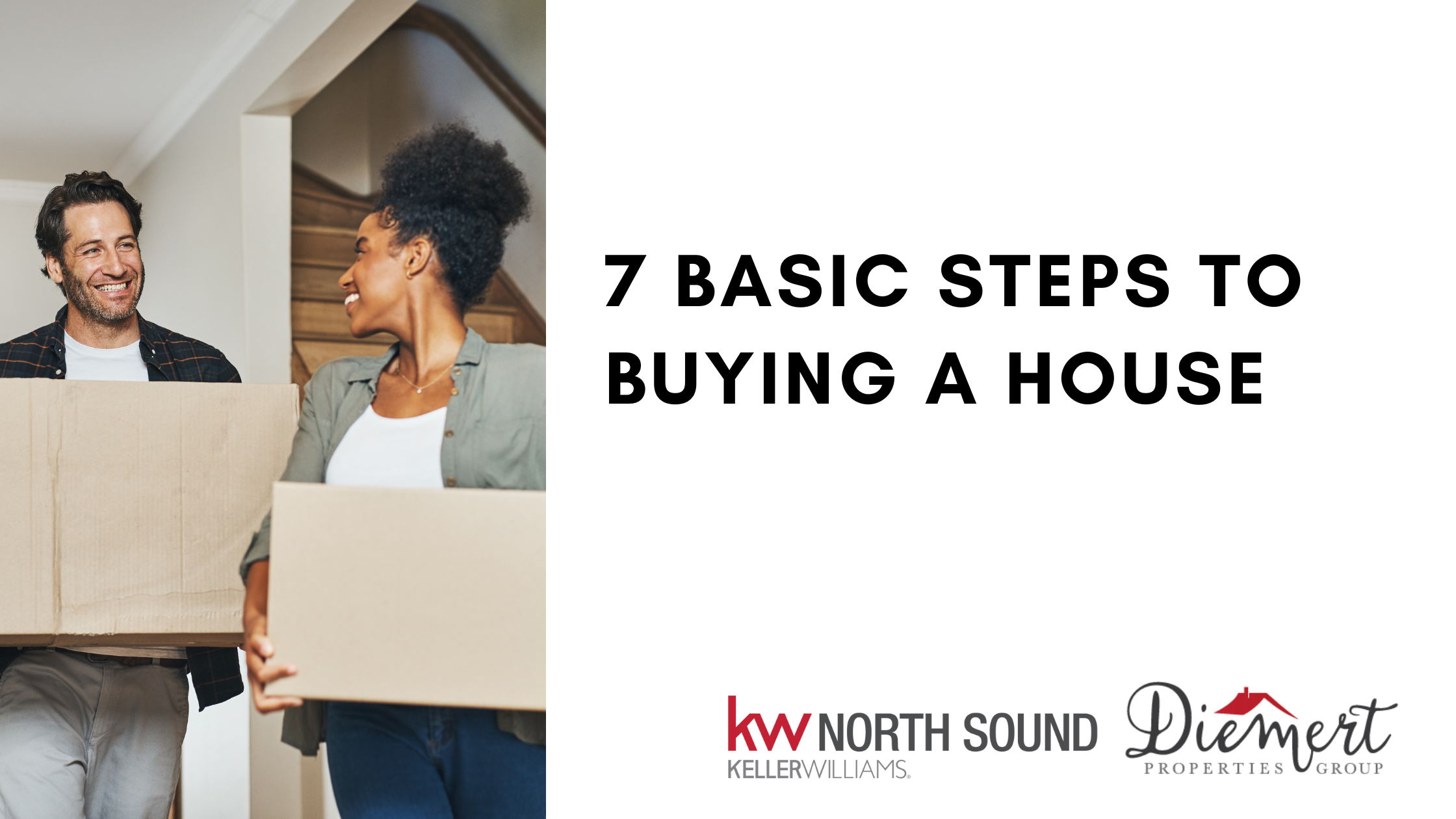 Step 1: Start the search!
Deciding to start your home search is the first step in the seven steps to buying a house. You have probably been using the internet to search for homes, financing options, and home buying information. We encourage you to contact the Diemert Properties Group about the home buying process, as our services are free to you the home buyer. We will research the market for you and let you know if the prices are fair, negotiate the contract and be by your side throughout the whole home buying process. We can help take the mystery out of the purchase of your new home and show you the ropes. There are hundreds of small details in buying a house and some, not so little details such as easements, property lines, earnest money and timelines in the contract. We will handle all of that for you!
Step 2: Determine what your budget is. How much can you afford?
Determining how much you can afford is huge! It will tell you if or when you will be ready to purchase a home. If you are ready, it will tell you how much house you can buy. There is nothing more disappointing than finding your dream home, only to find out it is out of your price range. If you have saved money for a down payment and you anticipate living in that home or condo for three to five years the answer is almost always yes you should buy it!
It is time to start building your own investment instead of helping pay off someone else's mortgage with your rent payment every month. In most cases, your interest off your mortgage and property tax payments are tax deductible. There are many programs out there to help people buy a home and have it be affordable! Lots of times you will find your mortgage payment is similar if not a little cheaper than your current rent! There are even programs that can give you down payment assistance or programs where you don't need a down payment at all.
You can use a Mortgage Calculator for a quick estimate.
Step 3: Shop around for a loan and research the different programs that are available to you.
You can call the Diemert Properties Group 425-308-6641 to talk about which lenders are best for you!
There are many federal programs and money available to assist first time home buyers. The people who receive this money learn about all of the available programs and apply for the assistance. You can look at www.HUD.gov to start. Basically, down payment assistance providers are government agencies that are there to help you as a first time home buyer.
The most common is an FHA loan. FHA is Federal Housing Authority. FHA loans are very popular and have expanded the number of people that qualify to buy a home.  The government knows first time home buyers are good for the local and national economy. Your real estate agent can help you decide which lenders are a good fit to interview. We have an amazing group of loan officers that can offer virtually every program out there.
In some cases, you can get FHA loans for as little as 3% down. Lots of first time home buyers do not know you can also use up to $10,000 from your IRA to purchase your first home. Also, in lots of cases, you can use gifts or loans from family as long as you disclose this information to your lender.
It costs little to nothing to find out if you qualify for a loan and to find out how much you qualify for. Most people are pleasantly surprised at what they find out and wished they had started the process sooner.
Step 4: Decide on a home then make an offer.
The biggest step! By now you know what you can afford and have a pre-approval letter in hand and you found the house you can see yourself living in. Together, you and your real estate agent will make an offer that details the amount of the offer and the conditions of the sale. If the seller wants to change anything they will send a counter offer. You may need to negotiate until you find where you feel comfortable moving forward with the purchase. Your agent will negotiate on your behalf and advocate for you and your needs. You will be 100% apart in all decisions and your questions are always welcomed!
Step 5: Get a home inspection!
You should always get a home inspection so that you know exactly what you are buying. You would make your offer to purchase a home contingent on a home inspection. You and your agent will talk and decide on a good length of time for the inspection and include that in the offer. Home inspections just inform you on everything that needs work on the house and from there you decide if you want to proceed with the purchase or ask the seller to repair any items before closing.
Step 6: Shop for Home Owners Insurance
Lenders require homeowners insurance to cover the collateral for the home (loan). Shop around as you would for any other insurance. Consult with your real estate agent if you need some referrals or if you have any questions.
Step 7: Complete the transaction & Move in!
This is the BEST step of all! You are ready to complete the transaction and get all settled in your new home. This is called settlement or closing. Closing is where you read and understand the documents you are signing at escrow. If you have questions make sure you ask your escrow closing officer, they are there to help you. There are no bad questions when purchasing a home! The Diemert Properties Group are here for you through the whole process and even after closing! We are your real estate experts for life!
Are you or someone you know thinking of purchasing a home for the first time, moving into a new home or possibly wanting to sell a home? Send us your contact information so we can talk about your options! You can also call us anytime at 425-308-6641. We are here to help you!